So, I tried. I really did. But, I don't think I'm going to ever catch up on these weekly recaps before the actual race (since it's NEXT WEEK, y'all). Here's a run down of the last five weeks and then I'll recap the Indy Women's Half.
Week 10 (Week of 9/4 *recovery week*)
M 8 miles easy
T 8 miles easy
W 9 miles with strides
T 8 miles easy
F 8 miles easy
Sat 3 warm up, 5k race at 17:14 (5:30/mile), 3 at 6:45/mile, 2 cool down
Sun REST
(49.5 miles)
Week 11 (Week of 9/11)
M 8 miles easy
T 3 x 3 miles at MGP w/ 1 mile jog recovery (15 miles)
W 10.2 miles easy
T 10.2 miles easy
F 10 miles easy
Sat REST
Sun (Palio half) 13.1 miles at 6:15/mile! 2 miles warm up, 5 miles cool down (20)
(74.8 miles)
Week 12 (Week of 9/18)
M 10 miles easy
T 10.2 miles easy
W 8 miles easy
T 24 miles with no carbs, had eggs + coffee for breakfast and only water during the run
F REST
Sat 10.3 miles easy
Sun 8.2 miles easy with the girls in double stroller
(70.7 miles)
Week 13 (Week of 9/25)
M 10 miles easy
T 3 mile warm up, 6 mile easy fartlek, 3 miles cool down (12 miles)
W 10 miles easy
T 12 miles easy
F REST (travel to Indy)
Sat 2 miles warm up, Indy Women's Half 1:18:59, 1 mile cool down (16 miles)
Sun REST (travel home)
(60.2 miles)
Week 14 (Week of 10/2)
M 8 miles easy
T 10 miles easy
W REST
T Fartlek 10 X 3 mins with 2 mins recovery, 2 warm up, 1 cool down (10)
F 8 miles easy
Sat 12 miles easy
Sun REST
(48 miles)
Training really has been going well. I went into my race last weekend hoping to just break 1:20, and surprised myself running 1:18:59 feeling in control and relaxed for most of the race. When I got to 10 miles I tried to drop down the pace and immediately felt  bad, so I just concentrated on getting to the finish and staying as relaxed as possible. Don't get me wrong, I was happy to see the finish line, but I did feel pretty good. My recovery has been good as well, body-wise. And I have a massage scheduled for later today, a luxury I almost never afford myself, but I figured it would be a nice treat with my race coming up in just a week! Lindsey's live show for her podcast was later that evening. Tons of fun. Too much wine. That flight home was ROUGH.
If I'm being honest, I am starting to feel a little nervous about Hartford. In my mind I've had the idea of just running my goal pace of 6:30. At the beginning of this training cycle that felt like a lofty goal, but now that I'm feeling fit and race day is approaching, my anxiety is starting to creep in. And I'm feeling tired, and ready for that post-marathon break. But I always try to remind myself that it's just running, and there's nothing to be nervous about.
A few other quick notes: I recently won a high performance blood test with Inside Tracker. I just got the blood test results back this morning, and although I was initially skeptical, I think the results give me some concrete goals to work on to optimize my health. I may go into a little more detail on this in the future. We'll see.
I'm currently reading this book, Present Over Perfect (not an affiliate link). So many people have recommended it to me, and after hearing the author on a few podcast interviews I decided it was time to start reading it. I can't even begin to describe how much I love this book, and how much I feel like the author in some ways. She talks about the concept of "fake resting", where you're in your pajamas and appear to  be in chill mode, but in reality you're running laps around your house checking off things on an endless to-do list. And I love this passage, "The very thing that makes you you, that makes you great, that makes you different from everyone else is also the thing that, unchecked, will ruin you."
I don't really want to end on a super serious note, so enough of that talk for now.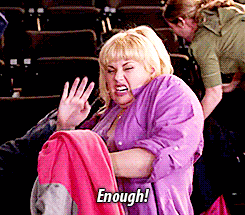 Good vibes appreciated for next weekend! I'm out!