Week Five: Week of 7/31
I got the most well-timed and amazing email this week. You may know that I'm a podcast junkie, and I was listening to an episode of one that I don't usually listen to. At the end of the episode, there was a prompt to enter the contest so I did. I've probably entered at least 100 contests on social media and have never won a damn thing. But I figured, what the hell?
You guys, I won.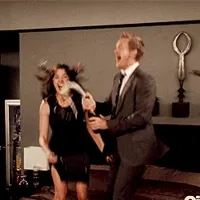 Unfortunately I can't give all the specifics yet, but once it's announced I think you'll realize why this was such a big deal to me. At the beginning of the week, before I got email, I was seriously doubting my ability to train for a marathon. But I realized that this was absolutely a sign. It really helped me re-focus and cut out distractions.
And now… something that made me laugh way too much:
Week Five:
M 4 easy treadmill miles, (~34 minutes)
T 4 miles easy (ran most of this outside, last 11 mins on treadmill (~32 mins) + Pilates 
W 10 miles treadmill (7:42/mile)
Th 2 warm up, 5 mile fartlek workout, 3 cool down 10 miles (7:13 avg)
F 6.1 miles easy (7:54/mile)
Sat 14 miles on the treadmill (7:19/mile)
Sun REST
(48.1 miles)